High-flying Franklin knocks out tooth on rim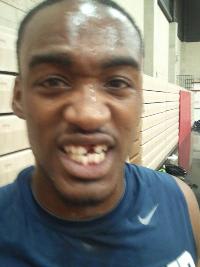 Jamaal Franklin
found himself a slice of national attention last season after he missed a breakaway through-the-legs dunk attempt in a game against Wyoming at Viejas Arena.
Now, after another failed dunk attempt on Monday night, he might find himself back in the national spotlight once again.
Franklin, a high-flyer who's considered the best dunker on San Diego State's men's basketball team, jumped so high to complete an alley-oop dunk in a pickup game that he actually hit his mouth on the rim and knocked out his front tooth.
"
LaBradford Franklin
threw me an oop," Franklin said. "And I went to dunk it, and my tooth got caught in between the net and the rim and as I was coming down, it just came out."
Franklin said there was a lot of blood, and the reaction from fans watching the Aztecs play in SDSU's on-campus gym ranged from "grossed out" to "surprised."
"I think that's probably the highest I've ever jumped," Franklin said.
It was also Franklin's most expensive leap.
Franklin was at the dentist from 8 a.m. to 1 p.m. Tuesday morning getting his tooth fixed. He said the dentist had to implant and reconnect the roots and push the tooth back in its place. He'll have to wear a retainer for two months as well.
Luckily for Franklin, SDSU's insurance covered the bill.
"They know I was out there playing basketball," Franklin said when asked if his coaches were mad about the incident. "It wasn't like I was out there fighting. They're not really mad - it was something that could have happened in practice."
The craziest part about it all was this was the second time in two days Franklin hit some part of his face on the rim trying to dunk a basketball. On Sunday, Franklin said he smacked his forehead against the cylinder.
The sophomore guard doesn't have a solution for the problem, either. Because he just can't help it.
"(My teammates) say 'It's your fault you jump so high,'" Franklin said. "I really like jumping up that high, so I don't know. Hopefully it doesn't happen again."