Going camping: Quarterbacks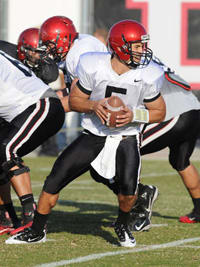 Editor's note: Every day from now until fall camp rolls around next Monday we'll preview each position for the 2012 SDSU football team. Today is part one, and we're starting out with the quarterbacks.
For the first time in almost half a decade, San Diego State will have a new face lining up under center, and whoever wins the starting quarterback battle in fall camp has some mighty big shoes to fill.
Ryan Lindley -- the only Mountain West quarterback to be selected in the NFL Draft this year -- is gone. Not only must the new starting QB replace Lindley's 961 career completions, 12,690 yards and 90 touchdowns (all school records), but he faces the daunting task of following the quarterback who helped turn around the entire SDSU football program; who led the Aztecs from a 2-10 season in 2008 to two consecutive bowl game appearances, including a victory in the 2010 Poinsettia Bowl -- SDSU's first bowl win since 1969.
Will
Ryan Katz
or
Adam Dingwell
be up to the challenge? Only time will tell, but first one of these two must win the starting job, which will be decided following the first week of camp.
Of the two, Katz is drawing the most buzz. The 6-foot-1, 210-pound senior transfer is eligible to play right away after transferring from Oregon State in the spring. In 2010, the Santa Monica native completed exactly 60 percent of his passes for 2,401 yards, 17 touchdowns and 11 interceptions at OSU. He was considered the quarterback of the future for the Beavers before he broke the scaphoid bone in his right throwing wrist in the last game of the 2010 season, and was forced to sit out spring practice last year while recovering from offseason surgery. Then, after just two games into his junior campaign, Katz was benched in favor of freshman Sean Mannion. He has a chance to come in to Montezuma Mesa and put an exclamation point on a career that looked so promising but hit rock bottom last year.
"We are excited to have Ryan here," SDSU head coach
Rocky Long
said. "He is a good, smart quarterback. He has come in and has proven to be a great leader for us this summer. Obviously, he has played in game situations, which is a tremendous help."
As the backup to Lindley last season, Dingwell has two years worth of experience in SDSU's pro-style offense, including a season learning offensive coordinator Andy Ludwig's scheme. With all the hype surrounding Katz, the redshirt sophomore likely has a chip on his shoulder heading into camp. He's the only returning quarterback to attempt a pass last season, and made three fourth quarter appearances (versus Cal Poly -- where he made his only career pass attempt, an incompletion -- Air Force and New Mexico). He's taken plenty of reps in practice as a backup, and in spring ball as well.
"Adam is a great leader, who just lacks game experience," Long said. "I am comfortable with the two quarterbacks that we have competing for the position and believe that we will be very productive at quarterback this season."
Neither Katz nor Dingwell has quite the rocket arm that Lindley had, but both possess a quality that SDSU fans rarely, if ever, saw under Lindley: the ability to scramble and make plays on the run. Expect to see some option plays and designed quarterback sneaks next season. Whoever wins the starting job will also benefit from an improved receiving corps that includes first-team all-Mountain West tight end
Gavin Escobar
, stud senior transfer
Brice Butler
and improved deep threat
Colin Lockett
.
Behind Katz and Dingwell are a trio of QB's that likely won't see the field this season except in the case of an injury. Junior
Jake Bernards
was actually the backup quarterback in 2010, and even completed his only attempt that year for 10 yards, but has seemed to fall out of the coaching staff's favor. Promising redshirt freshman
Chad Jeffries
looked fantastic running the scout team in practices last season, but seemed to take a step back in spring ball. Still, he was a three-star signee and the No. 10-ranked pro-style quarterback in the 2011 class, so the potential is there. True freshman
Matt Morin
, who enrolled a semester early and participated with the team in the spring, will redshirt.
2012 SDSU QUARTERBACKS AT A GLANCE
PRE-CAMP DEPTH CHART
1a. #5 Ryan Katz - 6-1, 210, Sr.-TR
Will try to bounce back from a disappointing junior campaign in which he was benched after the first two games. Has the big-game experience and moxie to take the reins of the offense and win the starting job.
1b. #6 Adam Dingwell - 6-4, 210, So.-SQ
The only returning quarterback to attempt a pass last year, Dingwell is entering his third season at SDSU. He was the Aztecs' scout player of the year in 2010 and saw action in the fourth quarter of three games last season as the backup to Ryan Lindley.
3. #12 Jake Bernards - 6-5, 215, Jr.-1L
Was the backup quarterback in 2010, but did not see any game action last year. Completed the only attempted pass of his career for 10 yards.
4. #15 Chad Jeffries - 6-2, 200, Fr.-RS
Promising redshirt freshman who throws a pretty ball and oozes potential, Jeffries could overtake Bernards for the third spot on the depth chart this fall.
5. #11 Matt Morin - 6-2, 230, Fr.-HS
The bulkiest quarterback on the roster at 230 pounds, Morin has dual-threat ability. The No. 21-ranked pro-style QB recruit in the country passed for 1,059 yards, rushed for 739 more, and scored 14 touchdowns as a high school senior last year. The plan is for Morin to redshirt this season.
BATTLE TO KEEP AN EYE ON
Obviously it's the starting quarterback battle. Katz has the big-game experience and had success as the starter at a Pac-12 program before breaking his right throwing wrist. Dingwell has the advantage of two years worth of experience at SDSU, and was the backup to Lindley last year. But after Ludwig worked so hard to get Katz to transfer from OSU, and after Katz looked like the better QB in spring ball and started earning the lion's share of reps towards the end of camp, it's hard to envision him not earning the starting job unless he struggles mightily and Dingwell blows the coaches away with his performance. Long said the coaching staff will decide on a starter after the first week of fall camp.
PRESSURE IS ON...
Adam Dingwell. With Katz coming into town, the pressure is on Dingwell to hold off the talented newcomer and earn the starting job after paying his dues as a backup the past two seasons.
NEWCOMER TO WATCH
Matt Morin is an interesting football player. With his size (6-2, 230) his future could be at another position on the field, but after he redshirts and learns this season, he will get every chance in the world to prove his worth as a quarterback.
POSITION MVP
Katz looked like the better quarterback in spring ball, and will win the starting nod if that continues into fall camp as well. If he wins the starting job and masters the in's and out's of Ludwig's pro-style offense, he has the chance to do some serious damage this season with an improved receiving corps.
QUOTABLE
"Ryan Lindley was truly a pocket guy, both Adam Dingwell and Ryan Katz are better athletes. They might not throw the ball as hard or as long, but they're much better. They use their feet and their legs to get out of trouble. They can run option plays, they can scramble, make big plays in the scrambling game and they can throw on the run. They're not nearly as big as Ryan Lindley was, but they're better athletes in the pocket. So there is more you can do with them. Both of them are about the same so it doesn't change the schemes you run on offense." - SDSU head coach Rocky Long