Cheatham: I had the best time of my life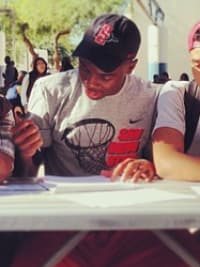 Phoenix (Ariz.) South Mountain forward
Zylan Cheatham
had arguably the biggest 48 hour span of his life earlier this week.
The four-star forward signed his National Letter of Intent to San Diego State on Wednesday, achieving one of his childhood dreams by signing the dotted line to play at the collegiate level. Then on Thursday, he found himself inside Viejas Arena, joined by fellow signee
Trey Kell
, and led the "I Believe" chant in front of SDSU's screaming student section prior to a sold-out game against No. 6 Arizona.
That's not a bad way to start off your first ever experience at an Aztecs game.
"Coach Dave (Velasquez) walked up to me before the game and said The Show wanted me and Trey to lead it," Cheatham said. "It really was an experience of a lifetime, because it was something I've watched a million times on YouTube but I never thought I'd be the one doing that.
"I've been to a lot of places and I wouldn't trade Viejas, The Show and the rest of the fan base for anyone in the country. I had the best time of my life."
San Diego State eventually fell to the Wildcats 69-60 but Cheatham was still impressed with his future team's effort and looks forward to helping out the program as soon as possible.
"I was praying that Coach Fisher would call me down from the stands and hand me a jersey," he said. "It's no secret we got killed on the boards, but with stuff like that I see opportunity for me to come in and help with my attitude and physicality. I feel like I could have made a slight difference just by grabbing an extra three or four rebounds because realistically, if the rebound numbers were closer, I think we win that game."
The 6-foot-7, 200-pound prospect also got a feel of how the coaching staff handles typical game days. All the reasons that ultimately led to his signing on Wednesday were right in front of him on Thursday, so instead of picturing himself fitting in with the fast-pace, free-flowing style of play the Aztecs run, he got to see it firsthand against a national championship contender.
"I got to hear Coach Fisher's thoughts before the game during their team meeting," Cheatham said. "And during the game I watched everything but also how Coach Fisher reacts to things. Like when guys make a bad play some coaches lose their mind, but he didn't yell at anyone or bench someone immediately after they made a mistake. He trusts his players and gives them a chance to learn from mistakes and I think that was one of the key things that led to my decision. If I make a mistake, I'm going to play 10 times as hard on the defensive end to make up for it."
Both Kell and Cheatham sat with each other during the game and - when they weren't being acknowledged by fans or taking pictures - one observation that stuck out to them was when San Diego State freshmen
Dakarai Allen
and
D'Erryl Williams
were sent onto the court while the game was still close.
"Seeing stuff like that just kind of makes me want to work harder because I know that my number will be called at some point," he said. "I know Coach Fisher, regardless of the situation, will put (seniority) aside and put the best players in.
"That's one of the things about San Diego State basketball that is so great, it's freedom to do what you can do best. Do what you can do, and we are all going to play together as a team to win. I have no doubt that I made the right decision."
Cheatham will stay in San Diego until early Sunday, his birthday, and will return back home to Arizona to prepare for his appeal meeting with the the Arizona Interscholastic Association (AIA) on Monday, in attempt to play high school basketball for his senior year.
"I'm feeling confident about it," Cheatham said. "I think there is no reason to deny me. I'll get a chance to clarify the situation right there in front of them, but you never know."