Allen verbally commits to SDSU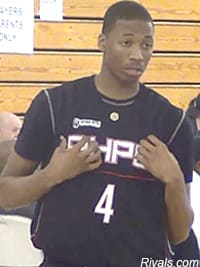 On Wednesday, Allen gave the Aztecs their wish, and verbally committed to SDSU.
"I'm really excited, I just want to get out there," Allen said. "I just want to get right back to San Diego.
"I like the style of play, I liked the coaching staff a lot, I love our relationship. It's somewhere that I really wanted to go, so that was a really big thing for me. Also, the campus and the location are just great."
The small forward from Sacramento (Calif.) Sheldon was on campus earlier this month for an official visit, where he fell even more in love with the school. He promised himself going into that weekend that he wouldn't commit on his first official visit, but made plans to return for Midnight Madness in October and announce his commitment then.
"My dad got tired of all the coaches calling and stuff," Allen said. "He knew where he wanted to send me, so he just wanted me to end it instead of taking more visits or having more home visits."
Allen originally told Fisher about his decision earlier Wednesday morning, but the Aztecs head coach didn't believe him at first. When the three coaches stepped into the Allen household in the afternoon and got the official word from his parents, they were ecstatic.
Every person in the house -- even 67-year old Fisher -- jumped up and cheered with excitement.
"As soon as (Fisher) got the OK, that's when he started jumping around," Allen laughed. "Everyone was up giving each other hugs and laughing and running around."
On Wednesday, it was like the coaching staff was part of the Allen family. And throughout his whole recruitment, they made Allen feel like a part of the Aztec family, which played a major factor in his decision.
"Coach Bland is like a big brother," Allen said. "He'll be my friend, and I know he'll get on me when I'm not doing what I'm supposed to. And Coach Fisher is great and so is Coach Dutcher. It's just all-around a great coaching staff for me."
With Allen now in the mix, SDSU will not just be getting arguably the top perimeter defender in the 2013 class, but a player who is willing to come in and put in all the work necessary to assimilate himself into the team and be successful.
"I think I'll fit in perfectly," Allen said. "I'm not a guy that's trying to come in and be a big star. I'll just work my way up the totem pole, doing the things I need to do, and not getting away from my game. So that's what I'm really looking forward to."
"There'll be some inside recruitment going on with me and him," Allen smiled.